American Heritage Credit Union's Kids-N-Hope Foundation Donates $225,000 to the Children's Hospital of Philadelphia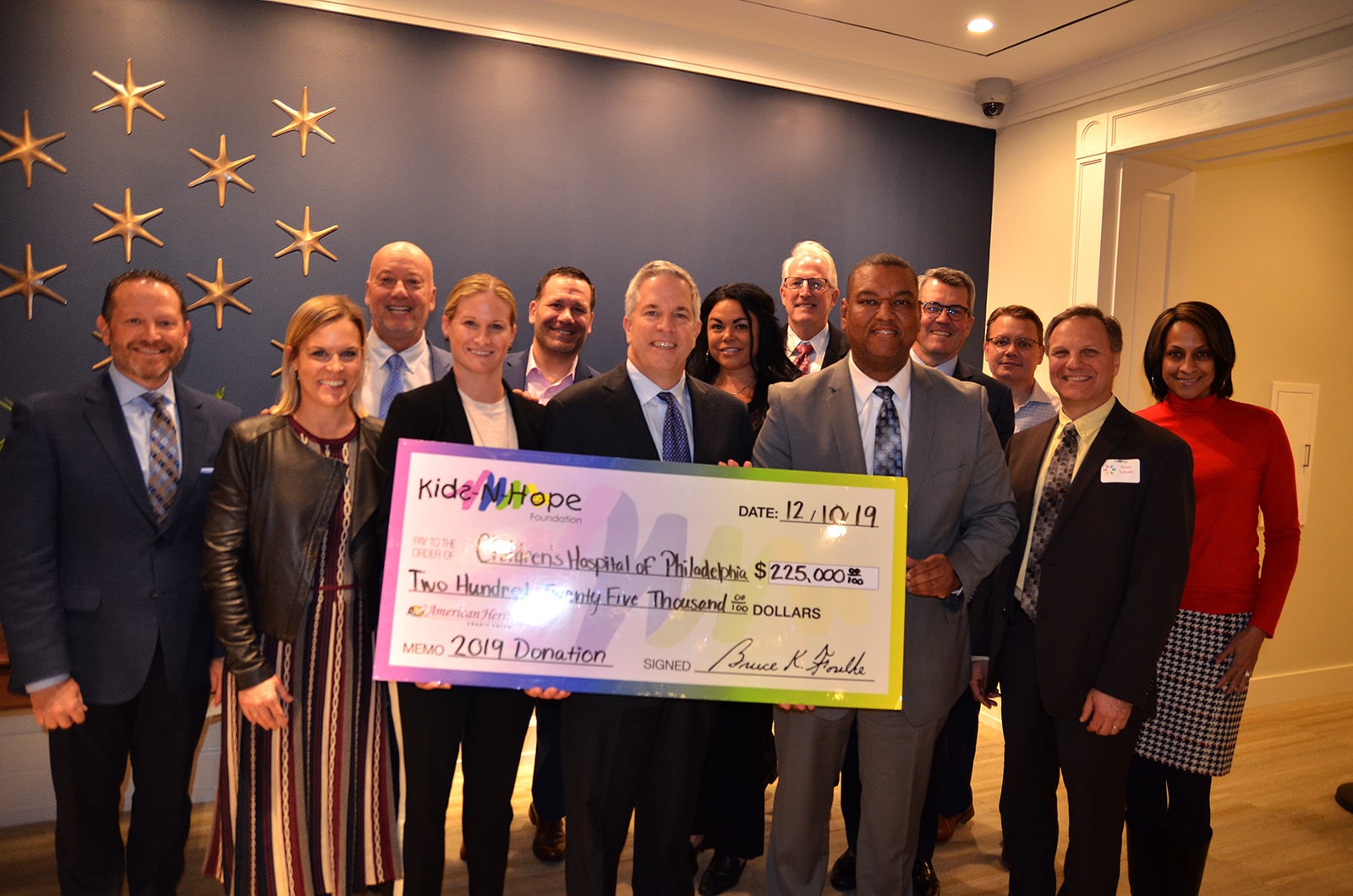 12.26.19
On Tuesday, December 10, 2019, American Heritage Credit Union's (American Heritage) Kids-N-Hope Foundation presented a check to the Children's Hospital of Philadelphia (CHOP) in the amount of $225,000. Chairman Bruce Foulke, Executive Director Dorian Smith, and other members of the Kids-N-Hope Board of Directors presented a check to Douglas Hock, Executive Vice President and Chief Operating Officer of CHOP. The donation represents the latest milestone in American Heritage's on-going support of the hospital's Music Therapy Program.
Each year, the Kids-N-Hope Foundation raises money through its fundraising events to support CHOP and many other hospitals in American Heritage's field of membership. Since its inception in 1996, the American Heritage Kids-N-Hope Foundation has raised over $1,700,000 for local pediatric healthcare. Through the support of the Foundation, the hospital is able to offer a Music Therapy Program to the patients and has allowed the hospital to purchase musical equipment, provide a music therapist and bring in musical performers specially trained in assisting children with developmental disabilities.
"The Kids-N-Hope Foundation is honored to continually support the Music Therapy Program at CHOP," states Bruce Foulke. "Helping the communities where we serve is incredibly vital to us, and the Kids-N-Hope Foundation is the core of where my passion derives from. I am extremely grateful for our Board of Directors, employees and members who helped make this donation possible. With their help, we are able to help thousands of children and their families who are involved with the Music Therapy Program at CHOP."
About American Heritage Credit Union
American Heritage Credit Union is a $2.7 billion, member-owned financial cooperative serving more than 800 Workplace Partners and more than 190,000 members, with more than 35 locations across Philadelphia, Bucks, Montgomery, Delaware and Camden Counties. Founded in 1948, American Heritage Credit Union is now one of the 100 largest credit unions in the United States and named the # 1 credit union in the state of Pennsylvania by Forbes. For more information about American Heritage Credit Union please visit AmericanHeritageCU.org.